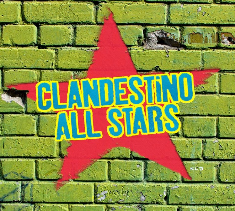 http://clandestinoallstars.tumblr.com
The term "All-Stars" seems to be thrown around very casually these days. Such is not the case when it comes this recent collaboration from Austin, Texas. It's a band made up of world-class producers/studio wizards, multi-instrumentalists, genre-bending songwriters and sought after A-list musicians.
Michael Ramos: (keys/accordion/trumpet/vocals) Mastermind behind "Charanga Cakewalk" and musical collaborator with: John Mellencamp, Robert Plant, Patty Griffin & Paul Simon.
Greg Gonzalez: (bass/accordion/vocals) Founding member of the Grammy-Award Winning Latin juggernaut "Grupo Fantasma" & funky alter-ego "Brownout" both of which have collaborated with Prince, Wu Tang's GZA, Bernie Worrell & Larry Harlow.
Brian J. Ramos: (guitar/sequences/vocals) Producer/bandleader of cutting edge urban cumbia mavens: Master Blaster Sound System. In-demand producer, mix engineer, songwriter, sound designer & film composer whose work can be heard most recently in the Robert Rodriguez film: "Machete Kills" & AMC's "The Bridge".
Alex Marrero: (drums/guitar/vocals) Bandleader & producer for the critically acclaimed world music collective: Ghandaia. The charismatic front man for "Brown Sabbath" and a sought after studio & live drummer/singer/auxiliary musician for artists such as the BoDeans & Darden Smith.