25 Unique, Handmade Austin Art Gifts Under $50 (Just in Time for the Holidays)
The holiday season is soon upon us, and that means it's time to start shopping! We all strive to find gifts that are just right for our loved ones – unique and thoughtful, but not over budget. Can you find everything you need in one place? Yes, at Cherrywood Art Fair!
Join us December 9th &10th at Maplewood Elementary for some of Austin's most original artists who will be offering everything from gorgeous fine art pieces to hand-poured candles. Afterall, handmade items make the best gifts! To help you plan your holiday shopping, we've put together a list of a few of the gifts you'll find at Cherrywood Art Fair for under $50. Find something for all of your friends and family!
1.Nailivic Studios Loteria Inspired Art: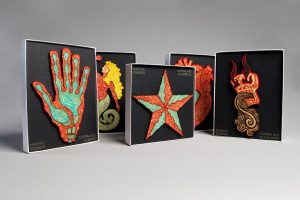 Nailivic Studios produces modern folk art inspired by Dia de los Muertos, Mexican Lotería imagery and folk art from around the world. Artist Mark Puente takes detailed, organic line drawings and brings them to life in 3D with the precision of a laser. The resulting artwork is boldly colored, wonderfully tactile and magically affordable.
2.Neena Buxani Metal Floral Prints:
Ready to hang metal prints of vibrant artwork by Neena Buxani are available in small sizes from 7″ x 9″ to 8″ x 8″ at only $40. Add a pop of color to any room!
3.Vibrant Cows Ceramic Tiles:
Debuting this fall, we'll have the Vibrant Cows Fine Art Collectors 6×6 Ceramic Tiles. Perfect for giving, these tiles can be hung, displayed on bookshelves, set on a table, placed in the garden or pretty much anywhere else in your home in need of fine art. There are currently five designs to choose from in the 2017 series. $45.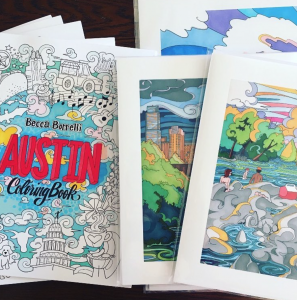 4.Wick Habit Hand-Poured Candles:
What does Texas smell like? How about leather, grass, tobacco and warm spices? This hand-poured soy wax candle by Wick Habit was designed with Texans in mind. What a great gift for a homesick Texan or friends and family in need of the Texan touch! $14 each.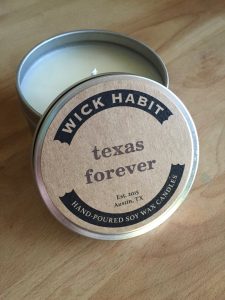 5.Roux St. James Oil Blends:
Botanical compounds in oil with restorative, healing properties. Roux St. James compounds are made from all-natural and organic ingredients, blended by hand in small batches. $28 for 6ml roller. $28 for smaller set of 3.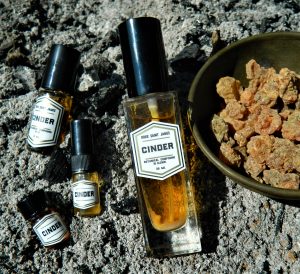 6.Hello Carol Kitty Ceramics:
For all of your cat loving friends, consider this quirky tumbler by Carol Schwartz. Her pieces are handmade in porcelain with colorful glazes, and high fired to be food safe. $50.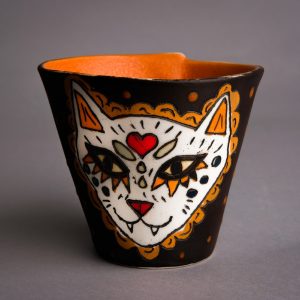 7.Mud Monster Studio Alien Eyes: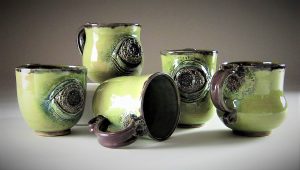 When it comes to fun and functional ceramics, these one-of-a-kind one-eyed alien mugs take the cake. Mud Monster Studio works in stoneware with dishwasher, microwave, and oven safe glazes. $36.
8.Spako Clay Small Plates:
Small batch porcelain ceramics made in Austin. These plates sell for $36 each and can be used as catch-alls or for dinnerware.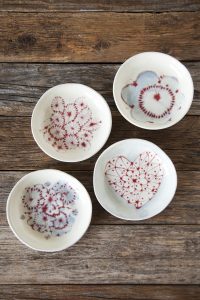 9.Chaos Woods Treasure Bowls:
Trinket bowls with decorative finial, hand turned on the wood lathe. Sizes range from 4 to 7 inches. Each piece is unique, made with various types of wood by Chaos Woods. Prices start at $40 depending on size and wood.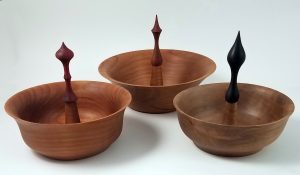 10.Koke Gardens Mini Tree: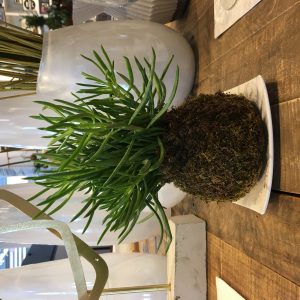 Kokedama is the Japanese art of growing miniature trees and plants in moss. $25-50.
11.Monster Dance Designs etched glass:
Etched cactus cocktail glass, perfect for your favorite mixologist or Western theme night. $15
12.Claire Sommers Buck Hair Pins:
A simple twist on the original "pencil in the bun", these hammered brass hair pins will keep your locks tame and your style on point. Hand-forged. Small: $35. Large: $40.
13.Elisha Marie Rings:
The original Siren Ring features delicate bands intertwined for a stacked-ring illusion. The perfect accessory for any style, this ring is effortless, elegant, and versatile. Wear it alone for an understated detail, or pair with our other Siren Rings to make a statement. Bands: 1.29mm Sterling Silver: $40 14 Karat Gold fill: $45
14.Stone's Throw Jewelry Pendant:
This tarnish resistant sterling silver feather pendant is handmade with a leaf skeleton imprint for the texture and then cut into a feather shape. It is on a 16″ sterling silver chain. Stylish and minimalist, this goes with everything. $45.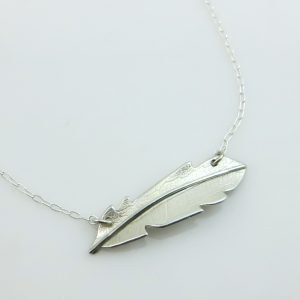 15.Bright Beam Goods Customizable top:
This wooden flatpacked kit allows you to fit pieces together to make your own custom spin top! Use markers, highlighters or colored pencils. Unassembled, the kit measures 2 3/4″x4 1/4″, and arrives in a clear plastic sleeve with an instruction sheet. $8 each or 3 for $20.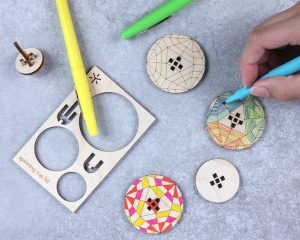 16.Squid Friends Doll: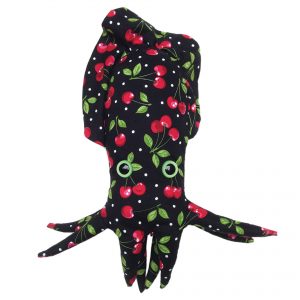 Handmade cuttlefish doll made from cotton print, thread, polyfill and plastic safety eyes. For ages 4 and up only. A unique gift for younger friends and family. $35.
17.Slow Fuse Photography Print:
"Night Fever", Austin, Texas; 8×10 limited edition print on Fuji Deep Matte Paper. Just right for Austin newcomers. $30.
18.John Gusky Photography Print: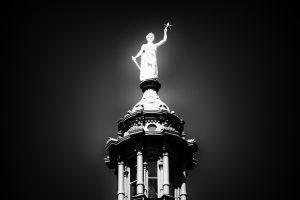 "Capitol Goddess" 11×14 limited edition photographic print. $28
19.J.H. Hardcastle Print: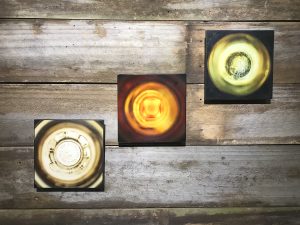 6"x6" photographic encaustic pieces. From the latest series from J.H. Hardcastle called "Bottleworks" which feature the interiors of bottles (many of which are from local vineyards and breweries). Perfect for the beer or wine lover who already has a well-stocked fridge. $45.
20.Chet Phillips Dog Cards:
A Fetching Deck of Canine Creatives is a poker-sized, casino quality deck of playing cards. Each suit represents a variety of dogs as famous authors, artists, musicians and film stars. 52 individual portraits, 2 jokers and 4 suit cards with a custom back. Each pack is boxed with cards cello wrapped, ready for your first dog-themed poker night. $14.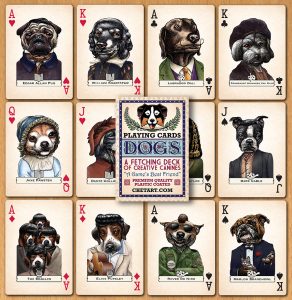 21.Forest + Ink Queso Pin:
This cheesy good enamel pin is perfect for any queso lover! Measures 1.125″ in plated black nickel. $10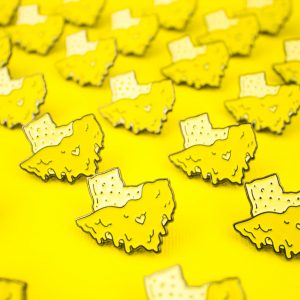 22.Kate Made That Modern Print: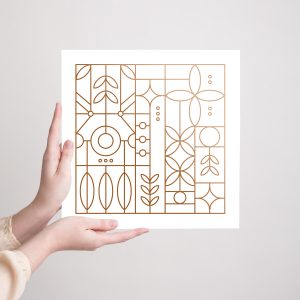 The Midas Touch Flora Art Print is printed with a 1-color metallic copper ink that shines and shimmers in the light. It's the perfect gift for someone with a modern minimalist or Scandinavian style. $30.
23.Squidrabbit Artz Frame Worthy print: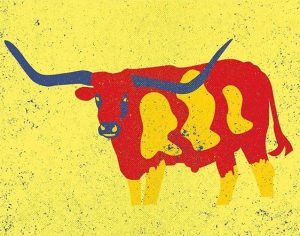 Larry the Longhorn. 9×12 print. $15.
24.Creations by Grazi Multi-use Bag:
Cross body bag that folds into a clutch (2 bags in one). The outside is made of up-cycled upholstery material. The cross body strap is removable. $42.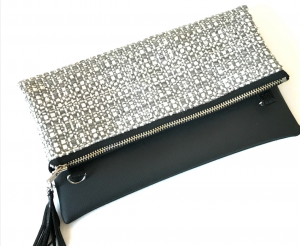 25.CBA Illustration T-Shirt:
Completely hand-lettered, this illustration is screen-printed with one ink color on 99% combed and ringspun cotton and 1% polyester Ash-color Canvas shirts. $25.